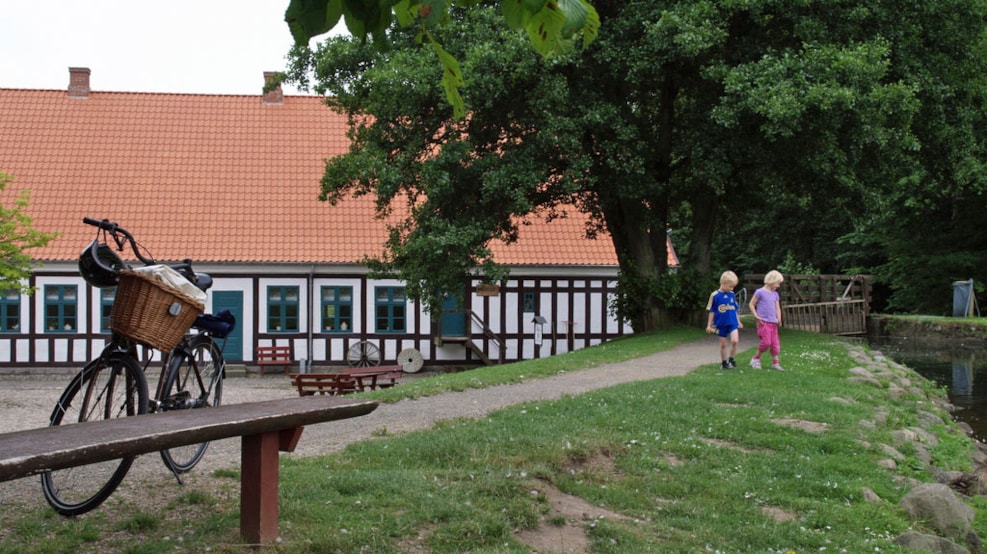 The Watermill Route - Panorama Route 7
The Watermill Route (Vandmølleruten) - Panoramic Route 7 - is a local cycle route that leads you southeast of Vejle. Take a break and visit the beautiful and historic watermills of Gammelby Mølle, Follerup Mølle, Børkop Mølle and Brøndsted Mølle.
From Mørkholt, follow the route to Gårslev, cycle along Kirkegade out of the city and across the dual carriageway. From here, follow the route along the fields to Gl. Pjedsted and continue towards the river of Mølleåen, where Gammelby Mølle is today a farm shop. Here, you can enjoy a coffee before returning along the route towards Follerup Mølle a bit further upstream. 
Follow the gravel road through the forest and make a left turn. Ride past Follerupgaard and Velling before crossing Vejle Landevej and follow Tornvadshavevej to Børkop. The heritage-listed watermill Børkop Vandmølle is today a restaurant and mill museum, and a lovely place to take a break.
The tour's last watermill is Brøndsted Mølle, which you reach by following Møllegade under the railway and then turning to the left and crossing under the railway again. From Brøndsted Mølle, the route once again crosses the dual carriageway and then continues towards Gårslev and Mørkholt.
The Watermill Route is a tour suggestion and is not signposted. The panoramic route offers scenic views as well as small hidden places that invite calm, mindfulness and reflection.
The trip is 30.7 km long. It takes approximately 2 hours and 10 minutes to cycle the Watermill Route.