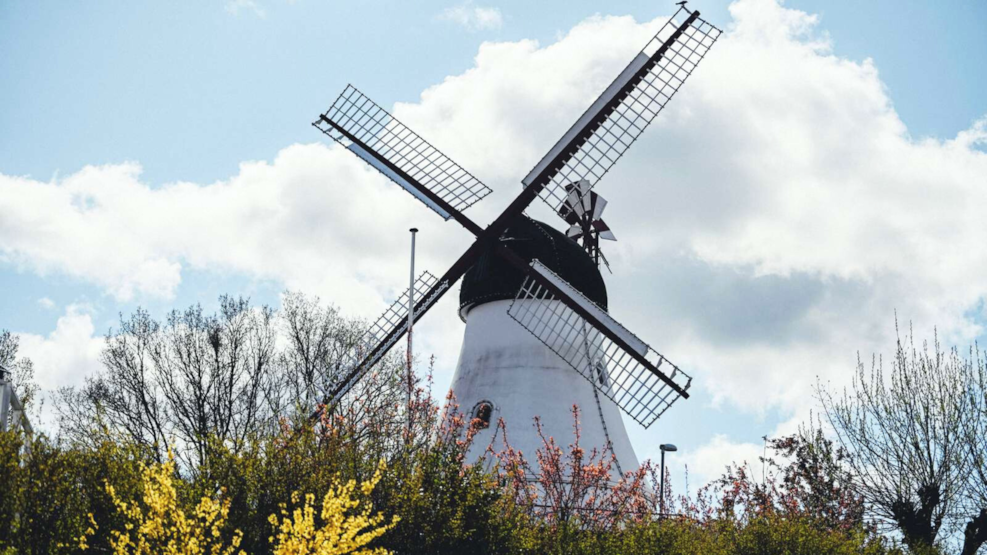 Vejle Windmill
The windmill is Vejle's top landmark! Located on the hillside in the southern part of Vejle, the beautiful old mill can be seen from large parts of town. From the windmill reefing, there is an impressive view of Vejle, Grejsdalen, Vejle Inlet and the river valley of Vejle Ådal.
There has been a windmill on the site since 1846, although the current structure is from 1890, while its milling machinery is from the 1930s. The windmill was in active use until 1960, and its impressive mechanisms give visitors a fine impression of how the mill worked. The mill is part of the heritage and history of milling in Vejle, but also played a central role in historical events, such as during wartime occupation of the town in 1864. The mill has been ravaged by fire twice: in 1890 and 1938. During the most recent fire, only a section of the mill was damaged, which is why the mill structure from 1890 is largely intact.
Vejle Windmill is open to the public during the summer season from 1 April until the end of the autumn school break in week 42 and can be visited on Tuesdays to Sundays from 11:00-16:00.
Vejle Windmill is also home to Vejle Art Association. The mill can be visited out of season during exhibitions hosted by the art association. Read more about opening hours and art exhibitions at www.vejlekunstforeningmoellen.dk.
Vejle Windmill is part of Vejlemuseerne. Find information on all exhibitions and events at www.vejlemuseerne.dk.
:
Vejleaadal og fjord © 2023