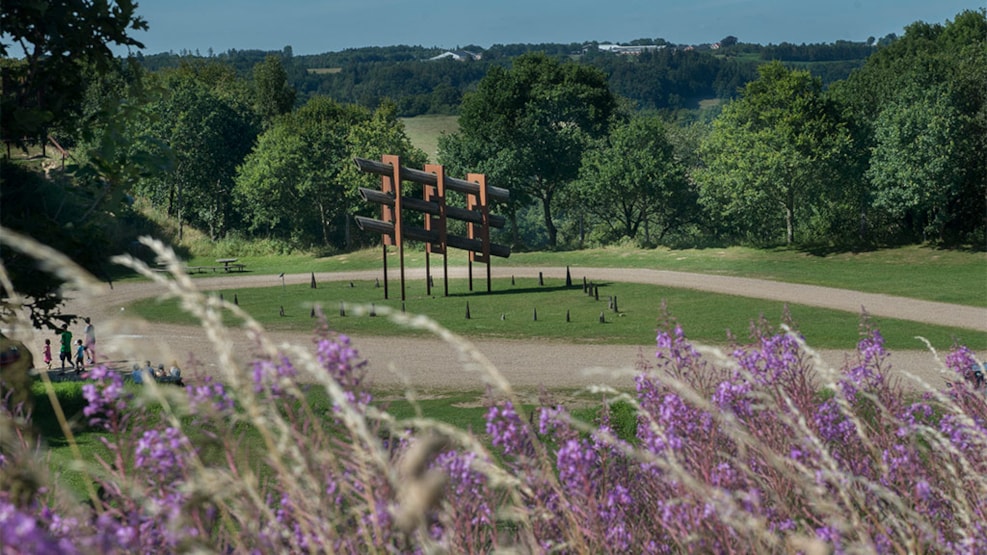 Vejle River Valley on two wheels - Panorama Route 6
Explore the valley of Vejle Ådal on two wheels. This local cycle route of approx. 37 km takes you past some of the region's attractions, including Bindeballe Købmagergård, Ravningbroen and Tørskind Grusgrav.
From Skibet, head along Bindeballestien past Haraldskær and Vingsted before reaching Ravning Bridge - a reconstruction of the 750-metre oak bridge built by Harald Bluetooth - to cross the river valley of Vejle Ådal. Take a break and let your imagination wander back to the Viking Age before continuing the tour towards Bindeballe Købmandsgård, a merchant house museum and store.

After Bindeballe Købmandsgård, return along Bindeballestien until you come across the gravel road of Slotsbjergvej to your right-hand side and cross the river of Vejle Å. Here, you can take a detour to the Runkenbjerg vantage point before once again crossing Vejle Å and reaching Tørskind Grusgrav, a former gravel pit, where the land art sculptures and the views from the nearby hillsides are also worth a stop.

Back in the saddle, the route takes you through Ødsted to Haraldskær Fabrik (an old industrial site) before you once again reach Bindeballestien and cycle along the river of Vejle Å to Skibet.
The Vejle River Valley on two wheels (Vejle Ådal på to hjul) is a tour suggestion and is not signposted. The panoramic route offers scenic views as well as small hidden places that invite calm, mindfulness and reflection. 
The round trip of 36 kilometers takes approximately 2.5 hours to cycle.
:
Vejleaadal og fjord © 2023