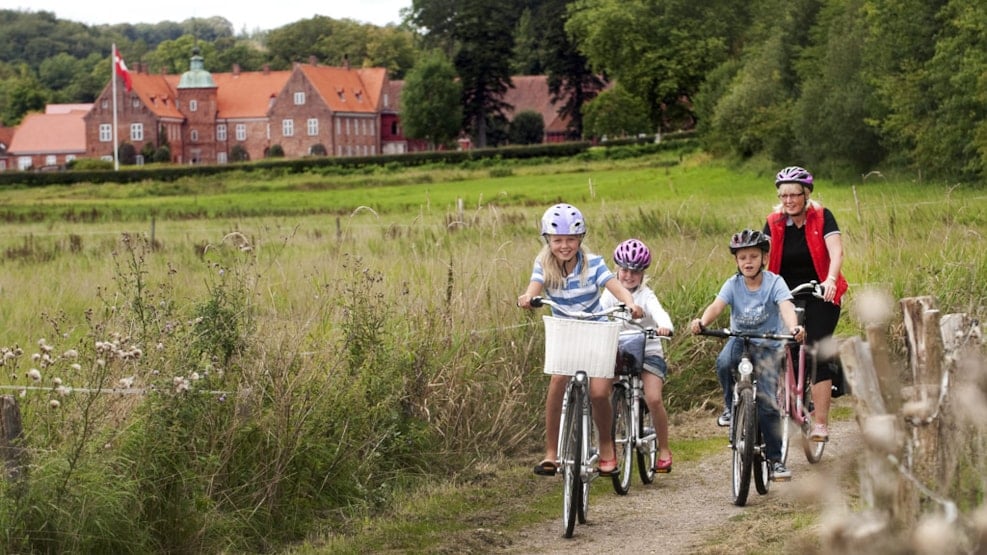 The Vejle Inlet - Tirsbæk, Ulbækhus and Daugårdstrand
On the slopes along Vejle Fjord, the beech forest rises like nowhere else in Eastern Denmark. You can watch the trees grow all the way down to the beach edge and experience the most beautiful views of the Inlet and the landscapes. The north coast is dominated by the Castle of Tirsbæk and Rohden Manor, but otherwise the area is thinly developed. The beaches at Tirsbæk, Ulbækhus and Daugård are popular with good facilities, inviting bathing water and magnificent views.
The unique area surrounding the inlet  around Vejle is characterized by a calm water surface and impressive forest-clad beach hills – occasionally as tall as 80 ms. The inlet is 22 kilometre long and fill up the eastern part of the tunnel valley, which at this place is 1,500 ms wide. The funnel-shaped inlet ends in the upper part of the Little Belt.    

Tirsbæk, Ulbækhus and Daugårdstrand are found on the north side of the inlet. This magnificent stretch of nature offers fabulous hikes along the ocean coast and in the near-shore forests with numerous great vantage points. During summer, you can enjoy the many sailboats etc.     

This stretch of coast enjoys protection to preserve the beautiful manor landscape at Tirsbæk, the fine vantage points and recreational areas at Ulbæk and to keep Daugårdstrand free of buildings apart from the farms and fisherman's cottage, which traditionally belong here.  

The coast has also been appointed nationally protected habitat for several rare species of birds.   

Tirsbæk Castle and Rohden Manor influence the area, which is otherwise thinly developed.   

At Tirsbæk and Ulbækhus, you can still see the former inlet boat beer gardens.     

Tirsbæk and Daugårdstrand also offer children-friendly beaches, recreational areas, restrooms and kiosk.      

The national biking trail no. 5, the East Coast Route, runs through the area.