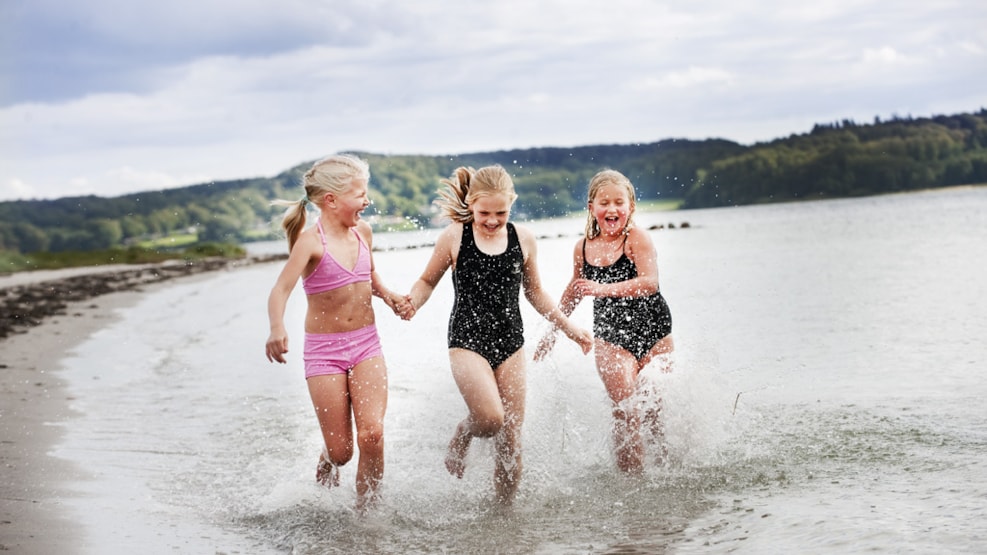 Tirsbæk Beach
Tirsbæk Strand is a popular and beautifully situated beach on the north side of Vejle Fjord approx. 8 km from Vejle city. Here you will find really good and child-friendly facilities with kiosk, jetty, toilet and parking. In the winter, the beach is used for winter swimming. Good opportunities for hiking in this beautiful area close to the Tirsbæk Castle.
Tirsbæk Strand (Tirsbæk Beach) is located on the northern coast of the inlet, surrounded by natural heritage protected wooded coastal hillsides in addition to the landscaped estate of Tirsbæk Castle. The beach is family friendly and offers good facilities. Tirsbæk Beach is also used for winter bathing.
The relatively wide sandy beach is family friendly and there are plenty of nature experiences for the youngest, not least by the shore where a myriad of crustaceans and snails are just waiting to be explored.
Along the beach, a snorkelling reef has been established designed as an underwater sea path. Rowboats and dinghies can moor at the jetty where beachgoers can also bathe using the ladders on either side of the jetty.
By the beach there is a large green recreational area with a kiosk, picnic tables and benches, toilets and parking. The nearby deciduous forest is a great place for nature walks along the trails. Here, there are also campfire sites.
National Cycle Route No 5, The East Coast Route, passes through the area.
During the summer, city bus No. 12 runs from central Vejle to Tirsbæk.
Winter bathing at Tirsbæk Beach
From October to May, winter bathing is offered at Tirsbæk Beach. There are four mobile wooden shacks with a sauna, two showers, a toilet and indoor and open-air changing rooms.
Tirsbæk Vinterbad is a public winter bathing facility, but reserved for the members of Vinterbaderforeningen Morgenrøden daily between kl. 5:00-10:00, Mondays and Wednesdays from 16:00-19:00 and Fridays from 15:00-18:00.
From 10:00-11:00, the facilities are cleaned and therefore not available for booking. The open changing room is available to everyone around the clock. The indoor changing room as well as the sauna, showers and toilets can be booked for DKK 100 per hour for 1-2 hours at a time. The sauna is automatically switched on 1 hour prior to the time booked. There is room for 15-20 people in the sauna.
Book and read more at udeliv.vejle.dk (Danish only).
:
Vejleaadal og fjord © 2023