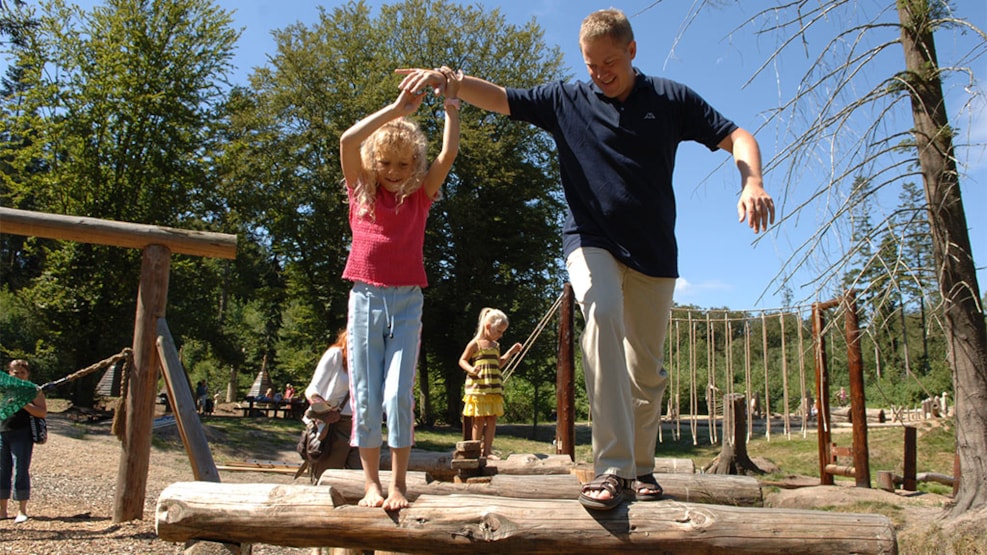 Sønderskoven Forest, Vejle
Sønderskoven is a forest close to the city in the southern part of Vejle, which stretches with its approx. 300 ha over six smaller forests with great variety of trees. The forest has an exciting, varied and hilly terrain with many springs and associated streams. Enjoy the nice cycling- and hiking trails as well as the mountain bike trails. In this forest you will also find a large and very popular forest adventure playground featuring a zip-line, rope bridge, treetop walkways etc. and covered seating facilities and a barbecue and bonfires.
Sønderskoven is located to the south of Vejle. The forest has an exciting, varied and hilly terrain with numerous springs and creeks. The forest also offers a huge forest playground built in larch and Douglas pine from the surrounding forest. 
The hiking trails are easy to use and if you are travelling on bike you can also use bicycle routes no. 55 and no. 57, which also cross through the woods of Sønderskoven.
The approx. 300-hectare forest includes six smaller separate woodlands. The woods of Vesterskoven, Tordenballe og Vindinggård offer a large variety of trees. Pugedal Skov is a large kettle hole woodland, and a part of this area is a bogs.
The Pedersholm Woods, which previously belonged to the Pedersholm Estate. In the middle ages, the Crown owned the estate and is has probably been serving as the workhouse for Rosborg, the ruin slightly visible as a rise in the river valley of Vejle Ådal. The trenches are visible evidence of the presence of the German troops during the war in 1864.  

Mørkedal Forest is situated on the east side of Højen River and is dark and cold during the winter. From a nature point of view, the forest is unique, as it is as clean a mountain stream due to the height of fall from the spring in Højen to the mouth in Vejle River.   

Along the river of Højen Å there are many spots with wildflowers such as corydalis, yellow anemone, toothwort, large primroses and the rare scarlet peziza. The area is also home of many birds such as water ouzel, kingfisher and wagtail, which feed on the rich animal life in the streams. 

Skovlegepladsen (forest playground)
The forest adventure playground features a zip-line, rope bridge, treetop walkways and an Indian village and Wild West street. There are covered seating facilities and a barbecue and bonfire. You can use the firewood free of charge. Parking is at Søndermarkshallen, Søndermarksvej 119. There is a forest trail leading to the playground from the end of the parking area.