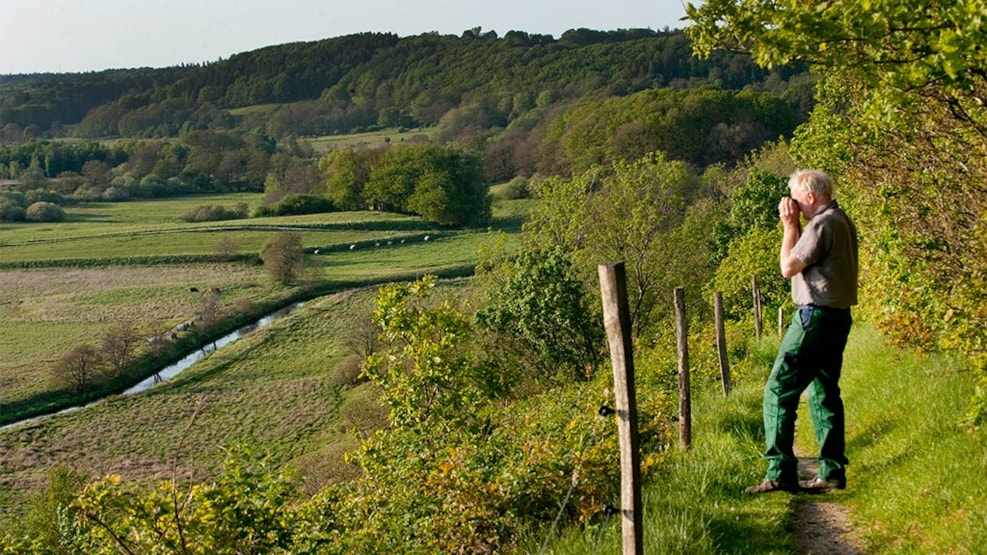 The River Valley Route - Panorama Route 3
The River Valley Route (Ådalsruten) - Panorama Route 3 - is a local 25 km long cycle route that takes you past attractions such as the Barrow of the Egtved Girl and Bindesballe Købmandsgård. Enjoy the rolling hillscapes of Egtved and the valley of Vejle Ådal.
The tour begins at Bindeballe, where the old merchant store, Bindeballe Købmandsgård, is always worth a visit. Your legs will get an uphill workout passing Nybjerg Mølle, but unmount your bike near the Barrow of the Egtved Girl and enjoy the downhill walk towards the river.
The sculpture park at Tørskind Grusgrav (gravel pit) and the view from the hillsides of the river valley behind the gravel pit are well worth a stop. And so is the view from Runkenbjerg. From here, the route continues along country lanes up and down the river valley, past Bindeballe before returning to Randbøldal.
The River Valley Route is a tour suggestion and is not signposted. The panoramic route offers scenic views as well as small hidden places that invite calm, mindfulness and reflection.
The trip is approximately 25 km long. It takes approximately 2 hours to cycle the Ådal route.
:
Vejleaadal og fjord © 2023