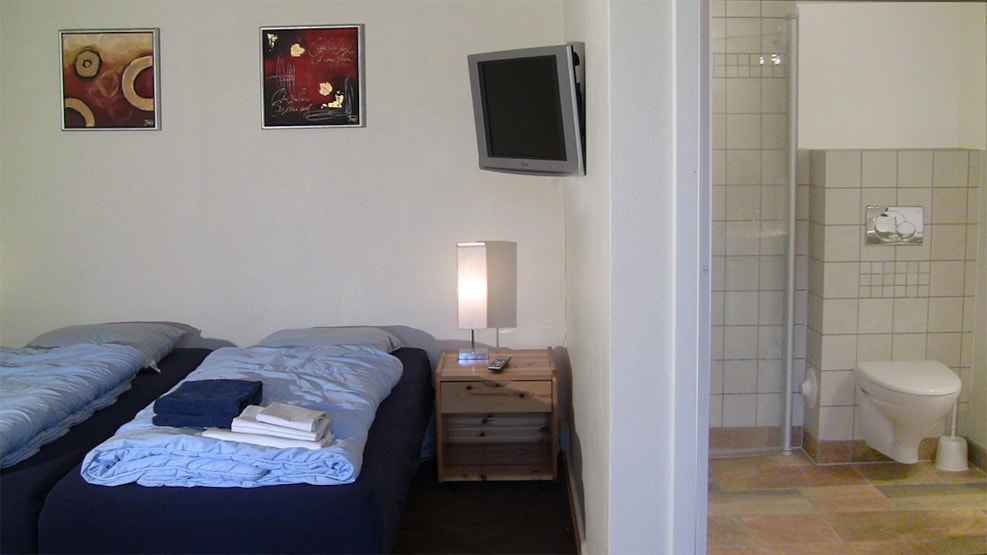 Randbøldal Camping Bed & Breakfast
The Bed & Breakfast offering is located close to Randbøldal Camping and visitors enjoy access to the camping site amenities. Visit the rolling downs of Vejle – a little paradise.
Randbøldal Camping and B&B is open year-round and is located in the river valley of Vejle Ådal in the western part of the municipality. The valley is surrounded by rolling hills and the stream that runs through it also meanders through the town of Vejle itself.
There are many entertaining activities for children, such as outdoor table tennis and billiards, moon cars and playgrounds with swings, trampolines and clock golf. They also have one of Denmark's oldest open-air spring-water bathes with a 65-metre waterslide and plenty of room for sunbathing.
Restaurant Skjulestedet serves house-made Danish cuisine in addition to fast-food, such as pizza, burgers, etc. And during peak season they also serve breakfast buffets. Summer activities include a Whitsun festival, BBQ parties and angling competitions with dance and music. The campsite store supplies freshly baked bread every day during the summer season.
The Randbøldal Museum with its hands-on waterpower visitors' centre is located in an old storage facility that belonged to a heritage paper mill from the 1730s – Denmark's first industrial watermill. Other attractions include the Ancient Road, the Bindeballe Merchant's Museum (founded 1897), Frederikshåb windmill park, the Randbøl Hede woodlands with the "seven-year lakes", and the visitors' centre Kirstinelyst is the gate to experiences on Randbøl Hede, the Ravning Bridge, the Barrow of the Egtved Girl, the Firehøje woodlands, Robert Jacobsen's sculpture park and the UNESCO-listed burial mounds dedicated to Viking King Gorm the Old and his Queen Thyra. There are also a number of angling opportunities.
:
Vejleaadal og fjord © 2023