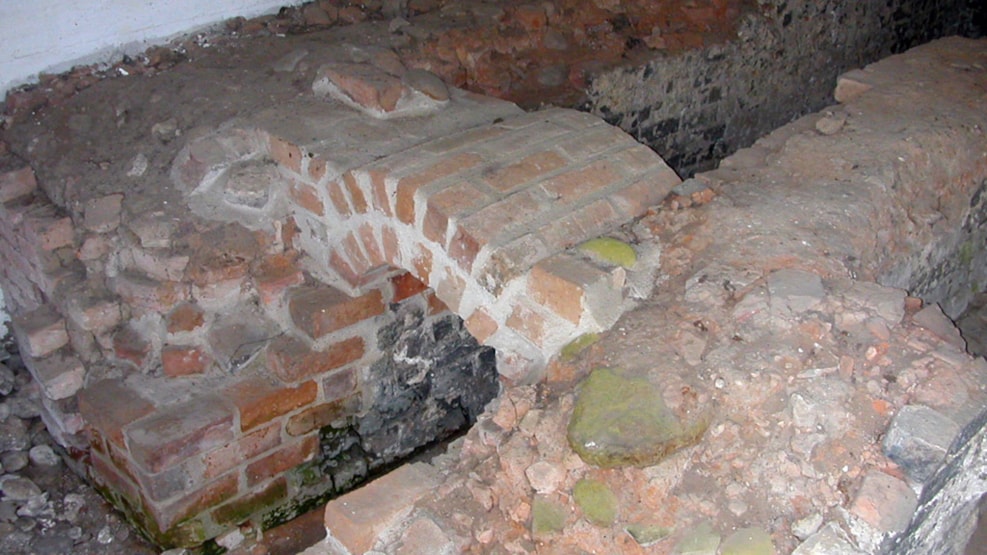 Munkenes Teglovn (The Blackfrier Kiln)
In medieval times, Blackfrier monks built a monastery in Vejle for which they needed bricks. The medieval brick kiln was discovered in 1923 and excavated by the National Museum of Denmark. Citizens of Vejle then collected funds to build a protective structure over the ruins. The brickyard kiln was restored in 1983.
Around the year 1310, a Dominican monastery was founded in Klostergade in Vejle by Blackfriars, as the monks were called due to their black cloaks. The monastery was most probably founded by the highest official to the Crown, Laurids Joensen.
Historians believe that the Blackfriars assumed ownership over an existing church on the site. The first monastery was built of wood, but in 1355 there were plans to construct a monastic church of brick. The brickyard, which was locally called Munkenes Teglovn (The Munk's Brick Kiln), was established at that time.
That same year, Laurids Joensen's son received permission from the Pope to sell indulgences to raise money to fund improvements to the monastery. The construction work took many years. A southern wing, church tower, an eastern wing and probably also northern and western wings were added. The monastery was dissolved in 1529, and in 1531 the Danish king handed over the buildings to the city.
When you purchased an indulgence, you were forgiven of your sins and thus ensured a better chance of a place in heaven when you died. The income from indulgences was of great importance to the Catholic Church.
The medieval kiln is part of Vejlemuseerne. Find information on all exhibitions and events at www.vejlemuseerne.dk.
:
Vejleaadal og fjord © 2023