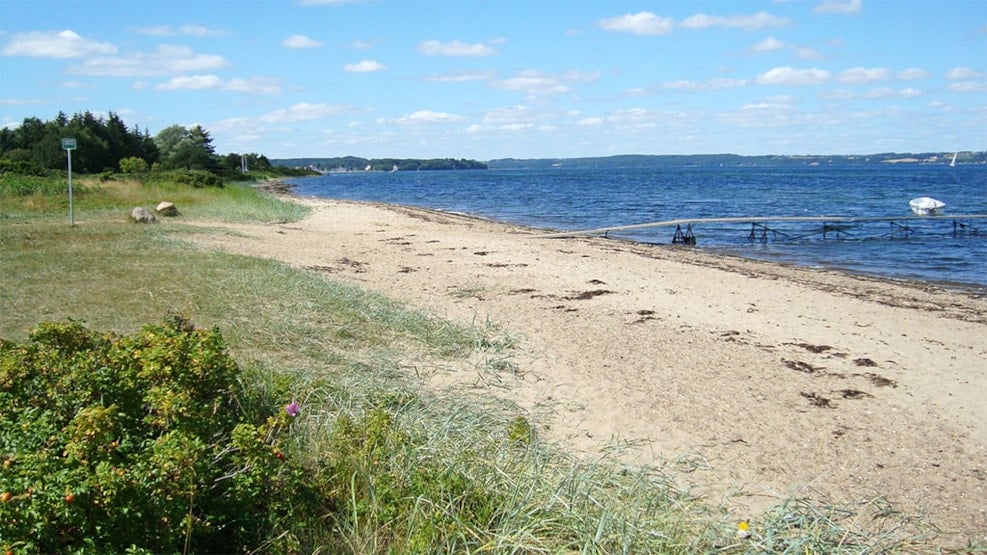 Mørkholt Beach
Mørkholt Beach on the south side of Vejle Fjord between Vejle and Fredericia has both fine sandy beach at Vognkær Enge and a pebble beach with shelter at Mørkholt Hage. A very family friendly beach with facilities such as a bathing jetty, kiosk and toilets.
Between Vejle and Fredericia you find the popular beaches of Mørkholt, Hvidbjerg and Høll (Fladstranden). To the north lies the family-friendly Mørkholt Strand (Mørkholt Beach).
Mørkholt Strand is divided into two general areas: a peaceful and silky sand beach and a stone beach that is more sheltered.
To the northwest lies the natural heritage protected area Vognkær Enge with silky sands, a bathing jetty, picnic benches and the campsites of Mørkholt Strand Camping and Hagen Strand Camping. There is limited habitation in the area which is therefore quite peaceful.
Further to the southeast lies Mørkholt Hage with a bathing jetty and a sheltered area featuring four picnic tables with benches and a barbecue, the so-called "Pedersens Plads." The beach has larger stones.
National Cycle Route No. 5, The East Coast Route, passes through the area.
:
Vejleaadal og fjord © 2023