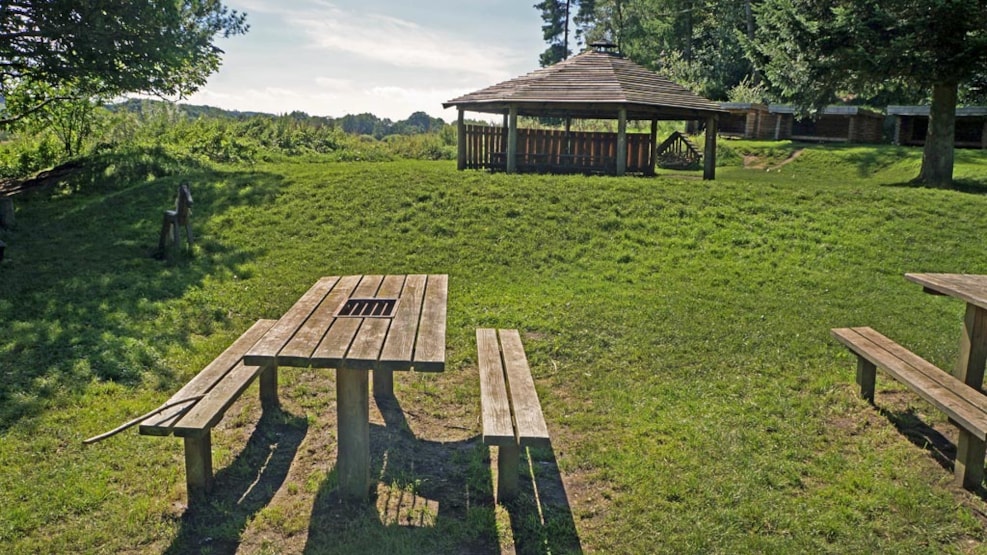 Kvak Mølle – tent site and shelters
The Kvak Mølle nature camp with tent campsite and shelters is situated on a fenced lawn in the scenic valley of Vejle Ådal, not far from the river of Vejle Å. The site can accommodate five tents and offers three shelters, each with space for 5-6 persons.
The tent site includes a BBQ hut and tables/benches. Firewood is supplied regularly. You can access toilet facilities with running water at the manor house of Haraldskær Avlsgård approx. 400 metres from the area (open from 6 am to 10 pm).
The nature camp is located not far from the popular bicycle and hiking route of Bindeballestien. If you have an angler fishing license, you can fish for free in the nearby lake of Kvak Mølle Sø. The site is also frequently used by canoeists during the summer.
The nearby manor, Haraldskær, dates back to 1434. Today, the manor is a hotel. The ruins of the old manor watermill, Kvak Mølle, hark back to the days when there were many watermills along the river. The church of Skibet is adorned with very beautiful frescos from the 1200s. 
Location
The Kvak Mølle nature camp is located south of the parking lot at Kvak Mølle Vej, south of the village of Skibet and about 8 km west of Vejle.
Buchung
Accommodation at the shelter is free. The site is managed by Vejle Municipality. You book online at Shelter - Udeliv Vejle, but please contact teknikogmiljo@vejle.dk with any questions.
:
Vejleaadal og fjord © 2023