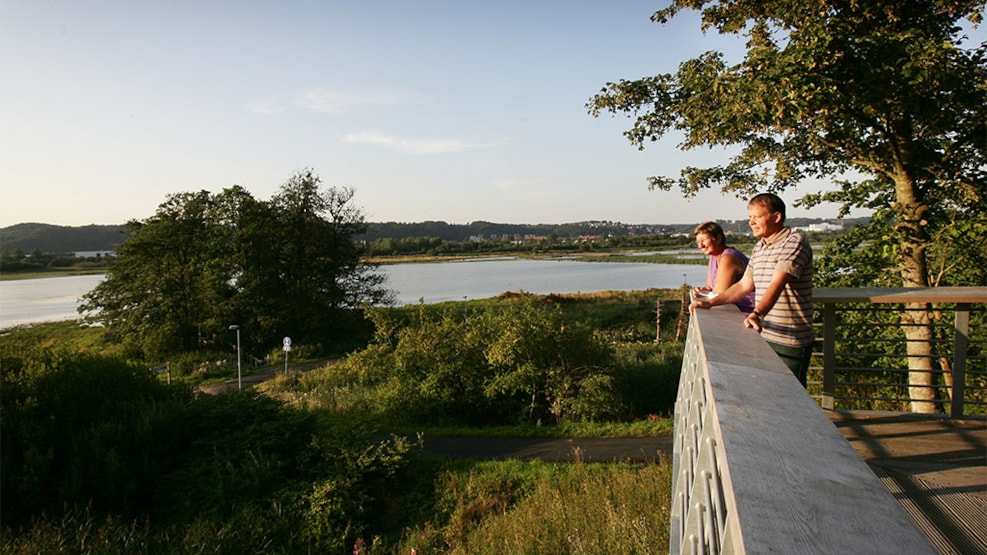 Kongens Kær wetlands, Knabberup Lake and Haraldskær Forest
The wetland Kongens Kær is a popular destination on the western outskirts of Vejle. A unique wetland in the river valley of Vejle Å, which in connection with the Knabberup Lake offers a beautiful landscape and not least rich bird life also with the sea eagle as a frequent guest. Further out of the river valley is the forest of Haraldskær, from where you can enjoy a fantastic view of the valley. Recommendable is also a tour around Østengård, where from a watch tower you are able to enjoy a beautiful view of the Vejle Inlet, the river valley, Kongens Kær and Ravning.
The Kongens Kær wetland on the western outskirts of Vejle is a popular destination. The unique wetland along with the lake Knabberup Sø, covering an area of 100 hectares, can be accessed via new and ancient pathways.
An observation deck allows you to enjoy the magnificent valley and birdlife. The white-tailed eagle (aka the Sea Eagle) also favours Kongens Kær. 
There are ample facilities for picnicking at tables and benches in Kongens Kær – a perfect choice for a luncheon under open skies. You can access Kongens Kær via the car park by Ribe Landevej.
Haraldskær Forst is richly varied with old and new forest, deciduous and coniferous forest, hills, bogs and waterholes, dense stand and open spaces, which allow you to enjoy a magnificent view of the valley of Vejle Ådal. The woods include several forests, each with their individual characteristics. Helligkilde Forest, which is an overgrown spring bog full of old birch trees. Lilleskoven is a protected pristine sanctuary for otters, which can build their dams and homes in peace. Nørre Plantage with its moist, bushy habitats is a favourite place for nightingales.

In the Queens bog "Dronningens Mose", a female body from the iron-ages was found during peat-digging. The initial assumption was that the body was the lost Queen Gunhild from the Viking-ages. However, the Danish National Museum found that the woman was an ordinary female from year 490 B.C. Maybe she committed an offence of some kind, as she was found executed and tied down with wooden hooks in the bottom of the bog. Queen Gunhild lies in the Cultural Museum in Spinderihallerne in Vejle.
The tour around Østengård passes woodlands, hedgerows and natural springs. The tour starts with a steep hill climb with rewarding views from the observation tower of Vejle Inlet, the valley of Vejle Ådal, the wetlands of Kongens Kær and Ravning.
:
Vejleaadal og fjord © 2023