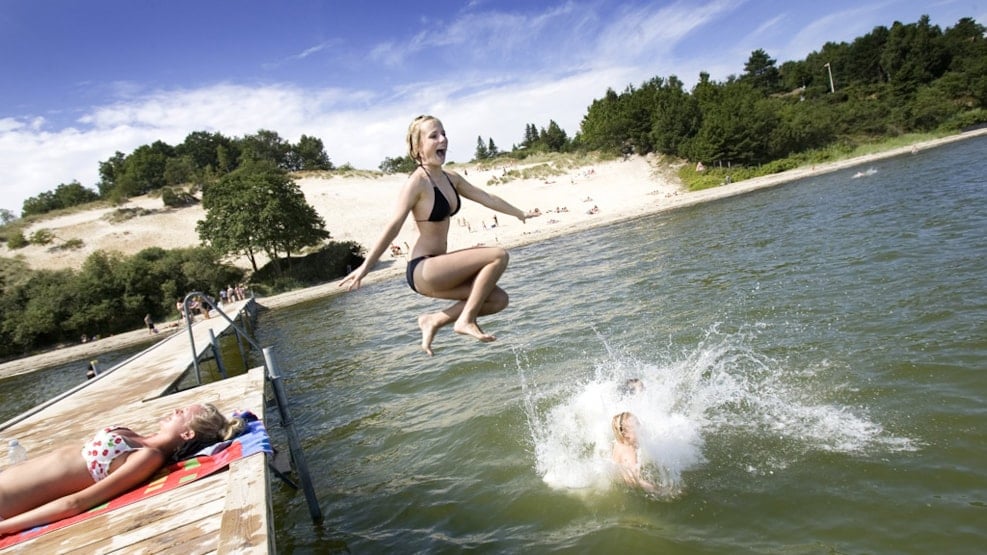 Hvidbjerg Beach
Hvidbjerg Strand, with its large white sand dune, is beautifully situated between Vejle and Fredericia. Enjoy the beautiful view of the Vejle Fjord at this child-friendly beach.
Between Vejle and Fredericia you find the popular beaches of Mørkholt, Hvidbjerg and Høll. Hvidbjerg Strand (Hvidbjerg Beach) takes its name from the natural heritage protected dunes of Hvidbjerg Klit, which are unique to the Jutland East Coast.
Hvidbjerg Klit covers two, fine-grained white sand dune, the tallest of which reaches 27 metres above sea level and offers amazing views of the wooded headland of Trelde Næs and the outermost of Vejle Inlet.
The family-friendly beaches, the fine quality of bathing water and the beautiful nature make the entire stretch from Mørkholt to Høll a popular destination for summer visits. Here, you will find a holiday homes, campsites, good parking and shopping.
National Cycle Route No. 5, The East Coast Route, passes through the area.
Bus No. 204 is routed through Hvidbjerg between Vejle and Fredericia.
:
Vejleaadal og fjord © 2023