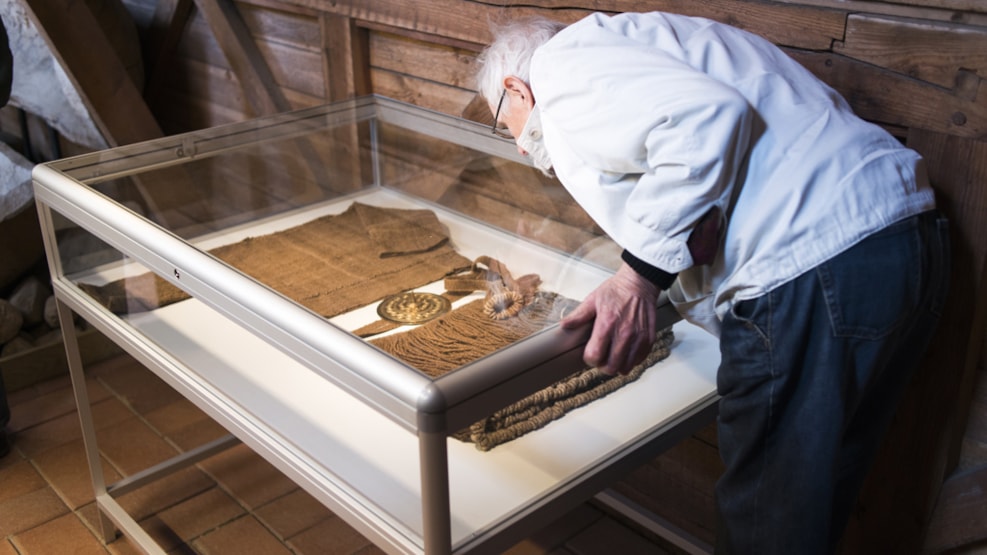 The Grave of the Egtved Girl
One of Europe's finest Bronze Age archaeological finds was uncovered in the village of Egtved close to Vejle. Here, a young prehistoric woman was found resting in a barrow. Vejlemuseerne relates the story of the Egtved Girl.
2021 marked exactly 100 years since the Egtved Girl was discovered. Vejlemuseerne marked the occasion with a large special exhibition at the Cultural Museum in Vejle as well as a host of activities in Egtved. Read more at vejlemuseerne.dk/pigen-fra-egtved.
The Egtved Girl was unearthed on Thursday 24 February 1921. Farmer Peter Platz was removing the last remnants of an ancient barrow in his field when he came across a rough-hewn oak tree trunk, a so-called log coffin. The subsequent excavation was organised by the National Museum of Denmark in Copenhagen, which is why the oak coffin was transported to the Danish capital.
When the log coffin was opened, a cowhide was found beneath which lay a woven blanket of brown wool. Beneath the blanket lay the corpse itself, a 160-cm tall young girl whose half-length hair almost hid her face. She was wearing a small bronze earring. The girl later became known as the Egtved Girl.
Today, the reconstructed barrow can be visited on the original site – 22 metres in diameter and four meters in height. There is a small adjacent exhibition describing the find. Here, you can see a copy of the Egtved Girl's coffin as well as replicas of her dress and belt buckle. The originals are on display at the National Museum of Denmark.
The Grave of the Egtved Girl is part of Vejlemuseerne. Find information on all exhibitions and events at www.vejlemuseerne.dk.
:
Vejleaadal og fjord © 2023