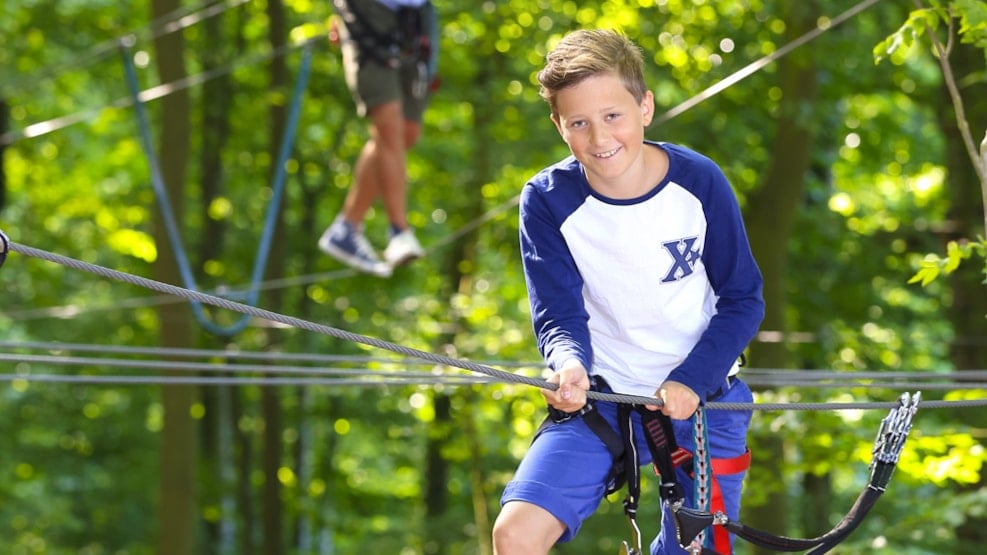 Gorilla Park Vejle
Treetop climbing is a great shared experience for adults and children of all ages. In the beautiful woods of Nørreskov – close to Vejle and not far from the Dyrehaven deer park and Skyttehuset – you find Gorilla Park Vejle, a treetop adventure park with 7 individual obstacle courses.
The obstacle courses in Gorilla Park are of varying heights and difficulty and offer experiences for everyone regardless of physique or adventurous spirit. Here you can go treetop swinging like Tarzan and Jane for hours on end.
Gorilla Park Vejle's easiest course is only 1½ metres above ground, featuring small, easy obstacles. The level of difficulty then increases, which is reflected in the course number. The most challenging course is the Alpha course!
Treetop climbing requires no special qualifications other than the desire to have fun and a fondness for outdoor activities in scenic surroundings.
Gorilla Park Vejle uses the patented and award-winning SSB fall-stop snap-clip system. Before heading out on a climb you will receive expert safety and behavioural guidance by a qualified instructor. Then the jungle adventure is all yours.
The options are many, including snowboarding, cycling and treetop Tarzan swinging through the forest. In total, Gorilla Park Vejle has over 2 km of obstacle courses, featuring more than 100 different climbing elements and several zip lines.
Gorilla Park offers group instructions on the hour (last instruction four hours before closing) for a maximum of 30 people per group. It is therefore recommended that you book no later than 21:00 the day before your visit so you are sure of a place. Doing so will also grant you a discount.
The price includes instruction, equipment rental and treetop climbing for 4 hours. Please note the opening hours on the website (see opening hours under downloads).
When you need a rest, you can enjoy snacks and refreshments from the sales booth in the enjoyable picnic area.

Save money and book online at www.gorillapark.dk.
In 2018, the popular Gorilla Big Swing, re-opened! You are hoisted up to 15 meters after which you pull the pin that activates a free-fall before you glide onto the big swing. Finally, you gain a sense of weightlessness before the backswing – an experience for all those who can't get enough adrenaline rush. Gorilla Big Swing: DKK 75 per trip.
:
Vejleaadal og fjord © 2023