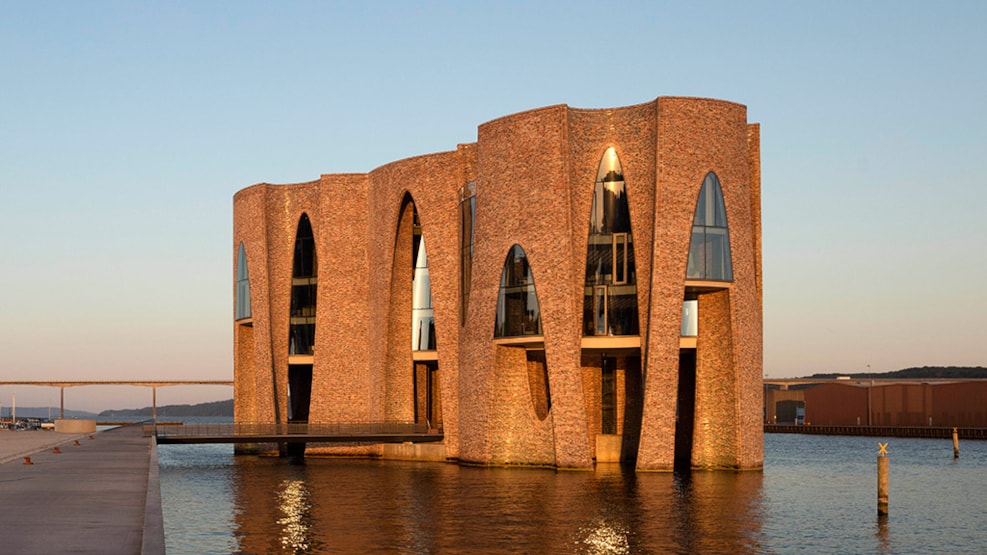 Fjordenhus
Fjordenhus is Vejle's iconic building by the city's waterfront. World-renowned Danish-Icelandic artist Olafur Eliasson has created the building, which is located in the harbour basin itself. Designated as the headquarter of Kirk Kapital A/S, the building is also destined to become a new landmark for the city and offers public access during daytime hours to Olafur Eliasson's artworks on the ground floor.
The characteristic building, covering 9,000 square metres, consists of four contiguous cylinders that rise to a height of 28 metres above sea level and create an architectural connection between the waters of the inlet and the city itself. Art and design merge in this innovative building that engages in constant dialogue with the surrounding sea, as was the intention of its creator, Studio Olafur Eliasson. Depending on your location in the building, you can experience many different architectural angles and views of the inlet and the harbour, all framed by the building's arched openings and windows. Water flows through two of the ground floor rooms, and a whirling metal sculpture expands from the ceiling to form a drooping tip. A reflector also mirrors the constant interaction between light, water and wind. You can even drift through the building in a kayak.
Kirk Kapital's offices are located on the top-two floors of the building, which is topped by a green roof with plants and solar cells. At night, Fjordenhus is lit from the inside reminiscent of a lighthouse.

The name Fjordenhus is a contraction of "Fjordens hus" (i.e. House of the Inlet) and refers to the location of the building in the water next to the dockland island of Havneøen. The building was named by the artist himself.
There is public access to Olafur Eliasson's artworks on the ground floor Monday-Thursday 08.00-20.00, Friday 08.00-22.00 and Saturday-Sunday 10.00-22.00. Access is via the bridge from Havneøen.
Fjordenhus was opened on June 9, 2018.
Guided tours
Guided tours will be headed by curators from Vejle Museums, who will relate the stories behind Olafur Eliasson's building and artworks. See more at www.fjordenhus.dk 
:
Vejleaadal og fjord © 2023