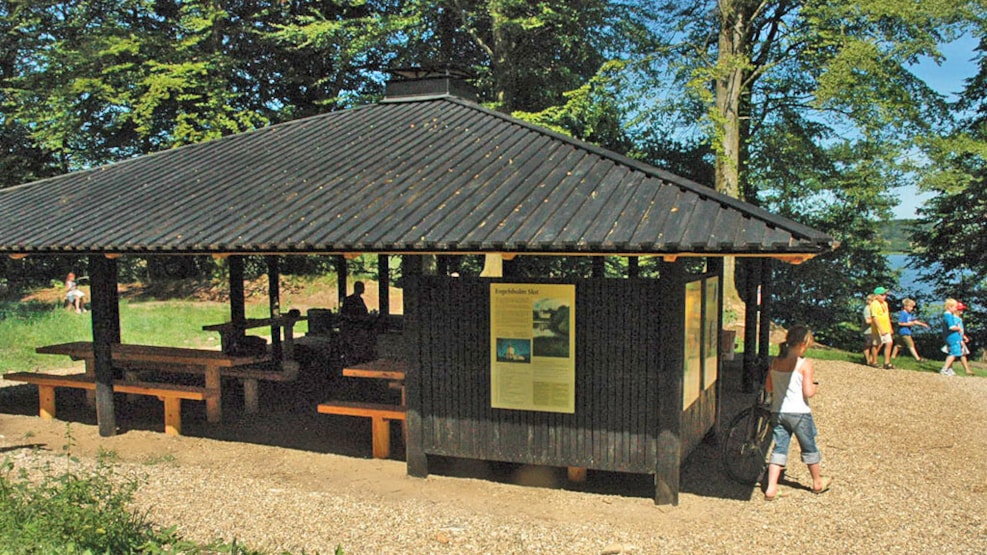 Engelsholm Castle and Gødding Forest
Visit Engelsholm Forest by Engelsholm Castle and lake and take a walk on the paths and in the baroque garden. Gödding Forest is varied with firs, beech and oak trees. You can follow the road through Gödding forest.
Engelsholm Forest
Engelsholm Forest was originally part of the splendid estate of Engelsholm Castle, which also included Engelsholm Lake. In 1942, the forest and lake were purchased by the State. Much of the forest has historically been a deer park where deer were kept in woodland enclosures for the benefit of huntsmen and the castle kitchen. Old hornbeam trees and low earthen embankments encircle what were once annexed gardens. Embankments and nature trails lead from the woods and parkland to the castle.
In addition to the deer park, the woodlands also feature a romantic landscaped walk (Slangstien) and wide tree-lined roads, Paradegangen and Nørupgangen, which grandiosely lead to the Baroque garden and castle.

Vejle Å (river) originates here where the spring trickles through open woodland clearings. In Vesterskoven (a section of Engelsholm Forest) the river cuts through the landscape to create deep eroded gullies.
In the deer park by the banks of Engelsholm Lake there is a sheltered barbecue area with tables and benches. Everyone can use the picnic site. In the southern part of Vesterskoven there is also a designated enclosure of about two hectares in size for unleashed dogs. 
Gødding Forest
Gødding Forest was originally established in open heather-clad areas on the northern heathlands of Randbøl Hede. When the forest was first planted in 1809 it was called Gjødding Plantation. Today, the forest seems wilder and more diverse with fir, beech and oak trees. The name has also been changed to Gødding Forest.
Hidden in the undergrowth in the northern and south-western part of the forest are several hundred ancient field walls. These are the vestiges of 2,500-year-old wall systems from the early Iron Age. The field walls were created by farmers who stacked fieldstones to better cultivate the land.
The Ancient Road meanders through the area in the form of sunken wheel-tracks. Along the wayside there are rows of ancient barrows (i.e. burial mounds). There are more than 20 barrows along the trail leading through Gødding Forest. In the middle of the forest you find Kæltringehøj, which is a five-metre Bronze Age barrow with a diameter of 45 meters.

Hiking trails
A number of marked trails lead around the forests, allowing you to discover the woodlands on short and long round trips. There are a total of 15 km signposted footpaths in addition to unmarked public forest lanes and trails.
:
Vejleaadal og fjord © 2023