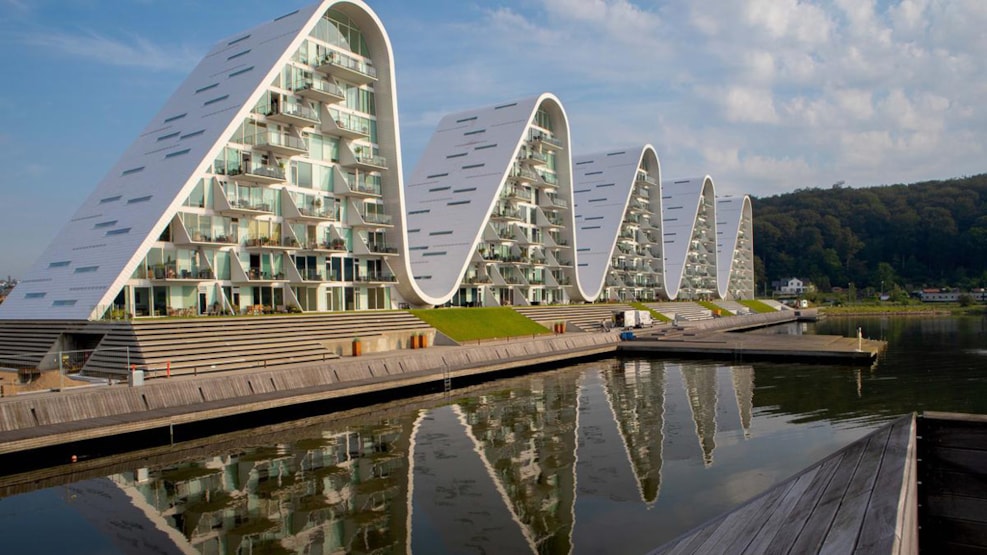 Bølgen
With a nice view of the Vejle Inlet, the Bridge and the garden of Skyttehuset you will find Bølgen (The Wave), that has received a wealth of awards and has become one of Vejle's landmarks. The exclusive and very distinctive residential building consists of five tile-clad, rolling 'waves', each reaching nine storeys and offering 20 individual apartments.
The largest of the apartments are the top-floor apartments measuring 240 square metres.
Bølgen enjoys a magnificent location with waterfront promenade by the bay of Skyttehusbugten in Vejle Inlet. The marina is its nearest neighbour.
Bølgen was designed by the renowned Danish design studio Henning Larsen Architects, creators of the Opera House in Copenhagen, Moesgaard Museum close to Aarhus and the Harpa Concert Hall in Reykjavik. Bølgen has been awarded several prestigious architectural prizes, including the Civic Trust Award and LEAF Award, and was hailed as Residential Building of the Year in 2009.
The first two 'Waves' were completed in 2009, after which construction halted during the financial crisis. Construction on the last three 'Waves' started in 2015. By the end of 2018, all five 'Waves' had been completed.
:
Vejleaadal og fjord © 2023