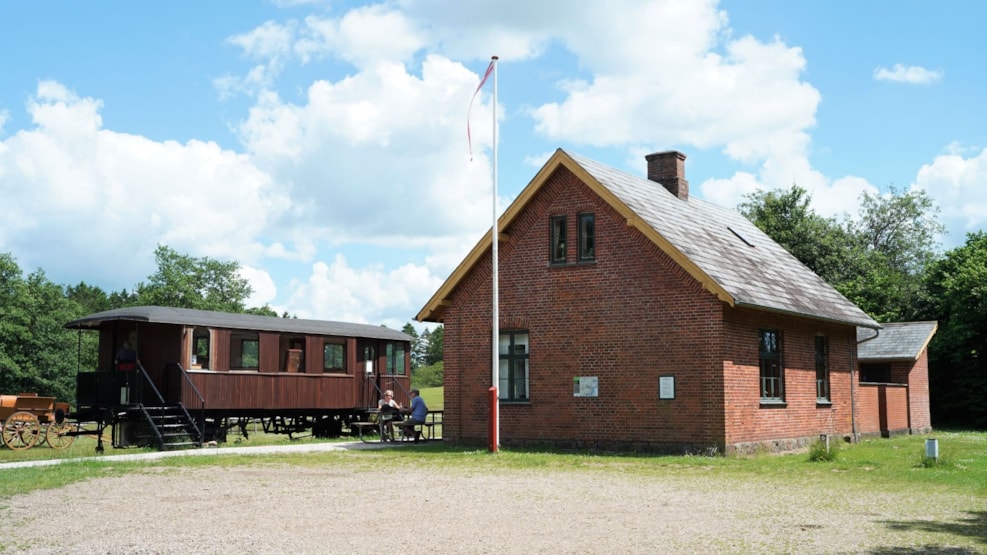 Bindeballe Station
Bindeballe Station was one of the stops along the old Vejle-Vandel railway, which has since been repurposed as a hiking and cycling route.
Bindeballe Station dates from 1897 and has been converted into a museum where the former ticket office and waiting room now feature many original artefacts. On the tracks, there is a DSB locomotive from 1928 and a passenger car.
The track area also functions as a primitive tent camping ground with access to a toilet, a simple kitchen and lounge quarters in the station building. The camping ground may only be used to pitch regular tents, and you may stay overnight for 1-2 days only.
Inquiries regarding tenting must be made in advance to Bindeballe Købmandsgård. Bindeballe Købmandsgård, Bindeballevej 100, 7183 Randbøl, Tel. +45 7588 3383. You can do your grocery shopping in the old grocery museum Bindeballe Købmandsgård. The museum is located directly opposite Bindeballe Station. There is free admission to the museum.
Bindeballe Station is part of Vejlemuseerne. Find information on all exhibitions and events at www.vejlemuseerne.dk.
:
Vejleaadal og fjord © 2023