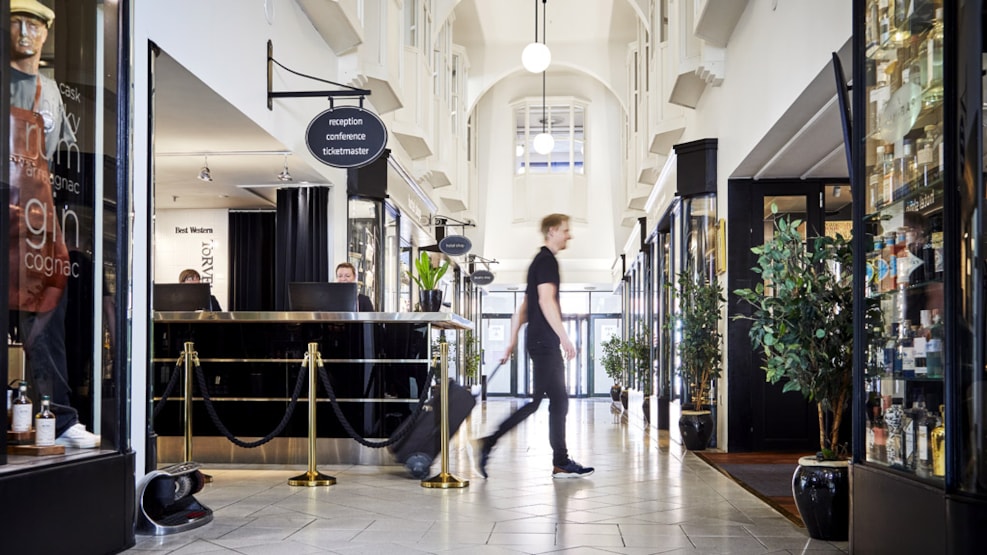 Green Experience
BEST WESTERN ToRVEhallerne
Best Western ToRVEhallerne is a modern 4-star hotel in the centre of Vejle. The inspiring surroundings and the many offerings in central Vejle are perfect for a weekend stay or a family trip.
Best Western ToRVEhallerne is located close to the cinema, pedestrian zone and shopping centre, yet at the same time enjoys close proximity to nature, forests, beaches, outdoor playgrounds and the Dyrehaven deer park with roaming wildlife. Best Western ToRVEhallerne is an architectural gem offering a wealth of experiences that include exciting restaurants, a bar and café and a theatre stage.
The hotel offers 74 double rooms, of which 31 were added in September 2009. There is a large lovely suite of 80m2 and 2 junior suites, all with bright décor and large bathtubs. All rooms have a bathroom, telephone, free WiFi, cable TV, hairdryer and minibar. The hotel is perfectly suited for business stays, weekend stays, leisure travellers, conference delegates, theatre-goers, musicians and artists alike. They all meet an informal atmosphere, enjoying personal and professionally committed service.
The underground parking facilities at the hotel offers parking at a discounted rate when staying at the hotel.
The hotel is a member of Best Western International, which is a worldwide hotel chain where guests can join a loyalty programme for free. With each stay, bonus points are earned that can be redeemed for free stays at Best Western hotels worldwide. For further information, please contact the hotel reception.
:
Vejleaadal og fjord © 2023