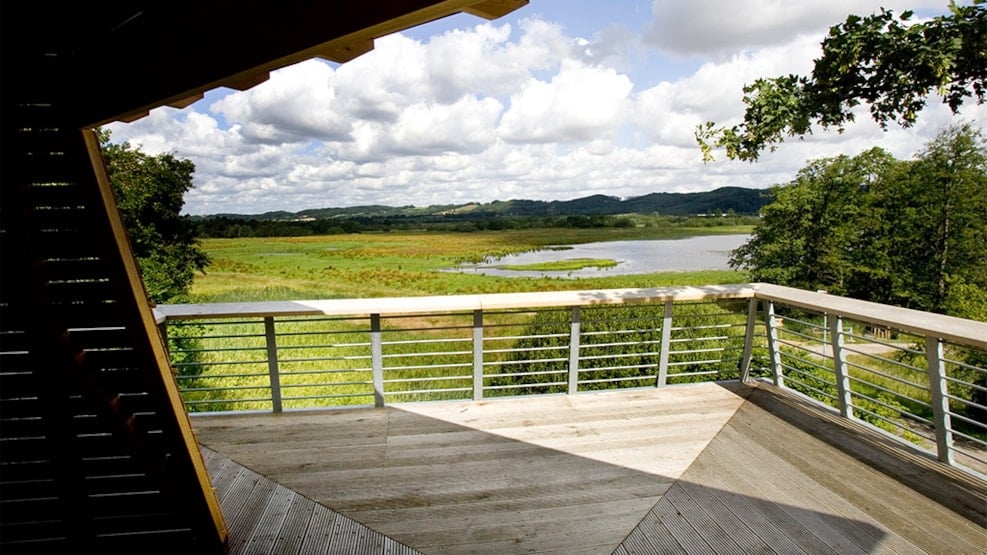 Around Kongens Kær - Panorama Route 5
Around Kongens Kær - Panorama Route 5 - is a local cycle route that lets you bike around the scenic natural wetlands of Kongens Kær and past Vejle before continuing along a part of Bindeballestien towards Skibet. The route is approx. 15.5 km.
Heading in the direction of Vejle, the route runs along Bindeballestien. Turn to the right just before Trædballe and continue along the paved cycle lane that runs along Vestre Engvej all the way to Boulevarden in the heart of Vejle. With its rich city life, great museums and exciting architecture, there is plenty to explore in Vejle before the route continues south of town and the wetlands of Kongens Kær via Ribe Landevej.
The Ribe Landevej cyckling path passes close to the wetlands of Kongens Kær, where you can enjoy the birdlife and wildlife from the viewing tower. Back in the saddle, ride along Ribe Landevej and turn right onto Sandagervej, which you follow right up until Gl. Skibetvej. Follow Gl. Skibetvej and turn right onto Skibetvej to head north of the river of Vejle Å, which you cross by the beautiful Haraldskær Manor, now a hotel. Your last stop is Skibet Church, which is unique by having a bell frame rather than a bell tower.
Around Kongens Kær (Rundt om Kongens Kær) is a tour suggestion and is not signposted. The panoramic route offers scenic views as well as small hidden places that invite calm, mindfulness and reflection.
The route is 15.4 km long. It takes just over an hour to cycle around Kongens Kær.